Aerocare Aviation Services Limited (Aerocare) and Inflite the Jet Centre Limited (Inflite), two leading, independently-owned British business aviation services companies, announced a collaborative partnership today (24 May) at EBACE to provide their respective business aviation customers with an extended range of paint and MRO services.
Aerocare's dedicated VIP paint facility (based at Hawarden Airport, Chester, UK) will accommodate Inflite's MRO aircraft customers who require aircraft painting as part of their maintenance visits.    Paint and MRO on a number of business aircraft types Inflite supports can be booked together, offering a convenient one-stop-shop solution for all aircraft maintenance requirements.
Through this collaboration Inflite will be able to seamlessly extend its Part 145 approval to provide EASA and FAA certification across the aircraft types it supports, including the Embraer Phenom 100 and 300, Praetor and Legacy families, together with the Bombardier Challenger 600 Series whilst their aircraft receive updated or new paint liveries at Aerocare.
The partnership will provide Aerocare with access to new markets, together with the ability to deliver its existing client base an extended Part 145 coverage. This reduces the need to position engineers and specialised tooling between the North West and Inflite's London Stansted, Essex home when providing the necessary engineering support during paint, significantly reducing downtime and cost.
Peter Mankelow, Managing Director at Aerocare Aviation Services Limited commented:
"We are excited about this collaboration.  It will usher in numerous benefits and opportunities for both parties and our respective customers.  We will continue to look for opportunities to work together to provide an unparalleled coverage to meet clients' maintenance, repair and overhaul requirements, which can be seamlessly combined with full exterior paint refurbishment for customers' aircraft.
"Formalising this co-operation with our trusted partners Aerocare, with whom we have enjoyed working with for some time, means we can extend our range of capabilities and services to offer our valued Embraer and Bombardier clients a full VIP exterior aircraft painting solution," commented Sebastien Albouy, General Manager at Inflite The Jet Centre.
"Aerocare continues to impress in the market with its professionalism and expertise in the sector.  Coupled with a competitive timescale for delivery and excellent reputation in producing a quality product and VIP finish, it has maintained its position as the leading UK based aircraft paint finishing company."
Pauline Monksfield, CEO of Inflite the Jet Centre applauded the partnership.  "To see these two companies, industry leaders within their fields, join forces is excellent news," she said.  "The real winner will be our customers, who will benefit from a very high-quality product and service, whilst reducing costs and minimising downtime."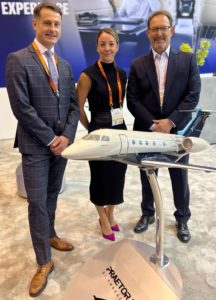 Editor's Notes:
Aerocare Aviation Services Limited
Established business aviation MRO Part 145 provider Aerocare Aviation Services Limited has been operating for over three decades, providing maintenance, repair, modifications, interior refurbishment, and exterior paint, all to OEM standards. It specialises in Hawker, Citation 560 series, Embraer EMB-505, Lear 45/75, King Air & Special Mission products and offers bespoke exterior paint services. As well as its purpose-built paint shop and interior shop, Aerocare holds major blue-chip dealerships, including Honeywell, Collins, Standard Aero, Bendix-King and GoGo Wifi.
Aerocare customers have access to an FBO facility through Partner Aviation Park Group, located adjacent to its facility.
Inflite The Jet Centre Limited
Inflite is the longest serving Embraer Authorised Service Centre in EMEA, covering any maintenance requirements on the entire Embraer Executive Jets portfolio. Inflite also provides maintenance support on Bombardier Challenger and Global (BD700) as well as Boeing 737 BBJ. Conveniently based at London Stansted Airport, with Line Station at Farnborough, Inflite has over three decades of experience in providing full AOG, line and base maintenance services. It further benefits from its fully integrated VVIP award-winning FBO – available to all corporate, executive jet services.
Inflite The Jet Centre Limited is a subsidiary of Swan Investments Group Limited, headquartered at Inflite House, London Stansted Airport. The principal activities of the group's subsidiaries are precision engineering, aviation repair, maintenance, and overhaul and FBO support. Swan Investments Group Limited is private, family owned and well established in the Aviation / Aerospace and Defence sectors since 1983, with the group tracing its origins back to 1919.