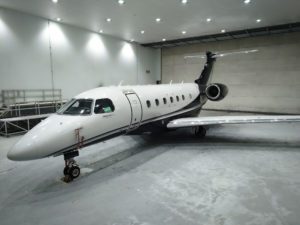 Aerocare Aviation Services, part of the Complete Aircraft Group, is pleased to announce that it has recently accomplished its first full aircraft repainting of an Embraer Praetor 600 aircraft, under a newly established relationship with a leading European business aviation service provider.
The Embraer aircraft received a full exterior repaint of its existing OEM livery using an approved paint system from Akzo Nobel, with all works being undertaken at Aerocare's dedicated paint facility at Hawarden airport, Chester, UK.
It follows the recently completed improvements after a significant investment in its paint facility last autumn, widening the door aperture to 22 metres enabling it to accept larger aircraft types, that includes the Embraer Legacy family and the Bombardier Challenger Series.
Working in collaboration with their Part 145 MRO partners to provide EASA certification, has enabled Aerocare access into new markets and provides their existing client base with extended coverage.
Aerocare secured the work by impressing it's new customer with their professionalism and expertise, together with a competitive timescale for delivery alongside their excellent reputation for providing a quality product and VIP finish.
"Based on this highly successful experience, the client has already positioned a further aircraft for a full repaint to Chester and has several projects booked in with us during the next 12 months." commented Craig Radford, Head of Sales and Business Development at Aerocare.
"We're extremely proud to have completed our first Embraer Praetor repaint project that has produced a fantastic end product surpassing the high standards our client expects and I look forward to developing our future cooperation with them. We really do have a fantastic facility for all our customers who are looking to refresh their aircraft exteriors with a VIP finish."
With our EASA Part 145 base maintenance facility adjacent to the paint hangar, Aerocare can truly provide a one-stop-shop solution for maintenance, repair, interior refurbishment, and modifications".